Types Of Oral Cancer
When it comes to cancer, knowing what type you have is a big deal. Not only does it help you figure out the best treatment options, but it also gives you an idea of how likely your cancer is to spread and what kind of treatments will work best for it. Here are the main types of oral cancers:
Squamous Cell Carcinoma: This cancer is most common in the mouth, but it can also appear at other sites such as under the skin or inside of the mouth. Squamous cell carcinoma is a common form of oral cancer, and it can also happen in other areas of the body, like on the vocal cords or inner ear.
Adenocarcinomas: This rare type of mouth cancer grows within the salivary glands and can cause visible symptoms such as a lump in your cheek or under the tongue, sores on your lips that do not heal, or ulcers on your gums.
Oral Malignant Melanoma: This is also a rare type of mouth cancer that begins in cells known as melanocytes. These melanocytes are responsible for providing the skin with its color. This disease does not cause symptoms until it has grown and spread to nearby lymph nodes, or has already metastasized to another part of the body.
Symptoms Of Oral Cancer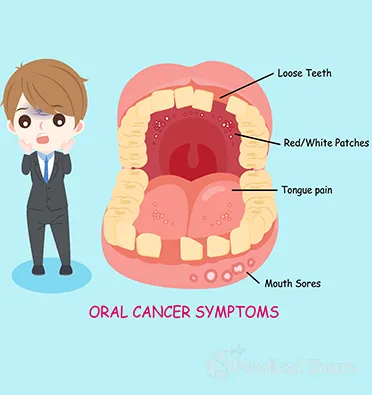 The symptoms of oral cancer can vary from person to person, but it's important to remember that if any of the below occur, visit your physician immediately.
Tongue pain
Sore throat
Loosened teeth
A lump in the neck
Bleeding from the mouth
Ear pain or hearing loss
Pain or stiffness in the jaw
Problems in wearing dentures
Speech problems/change in voice
Pain or difficulty in swallowing
A persisting earache Dramatic weight loss
Lip or mouth sore that doesn't heal with time
If a growth or mass is seen anywhere in the mouth
Numbness on the lower lip, face, neck, or chin White, red, or red and white-colored patches in or around the mouth or lips
Causes Of Oral Cancer
There is no guaranteed way to prevent oral cancer, but there are several factors that have been identified as increasing the risk of developing it. The following factors are known to affect the risk of developing oral cancer:
Oral Cancer Diagnosis and Tests
Oral cancers are often difficult to detect and diagnose since they don't always cause signs or symptoms. There are various tests used to detect and diagnose oral cancers, and your dentist can help determine if you should undergo any of these options. The most common tests for oral cancer include:
Stages Of Oral Cancer
Staging is a very important part of the treatment process. It helps in choosing the right treatment option depending on the extent of the spread of cancer. If a biopsy is indicative of cancer, imaging studies are the next step. Imaging studies help in staging and planning treatment accordingly. Various stages of oral cancer include:
Treatment Options for Oral Cancer
The treatment of Oral cancer lies on a variety of factors, including the stage of cancer, its location, and the patient's medical condition. Overall, various combination of different modes of treatment is necessary. These may include various surgical and non-surgical treatments such as:
Follow-ups After the Treatment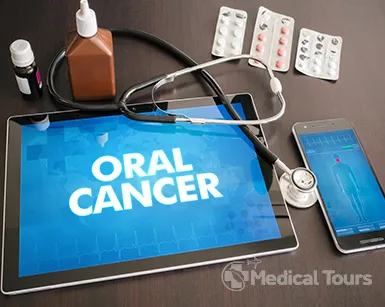 If you have survived cancer, it is very important to be in regular follow-up after cancer treatment. This check-up is done to detect future recurrences at the earliest. At each follow-up visit, the oncologist will examine you and review your past medical and surgical history. Imaging may be required based on tumor stage, symptoms, and response to treatment. Follow-up is done at 2-3 months for the initial 2 years 3-6 monthly for the next 3 years and annually thereafter. Various precautions can be taken such as:
Say no to passive smoking
Stay away from tobacco and alcohol
Regular check-up if you have smoked or had alcohol in past
Best Hospital for Oral Cancer Treatment in India
There are many hospitals across India. But some places provide the best treatment for oral cancer. You should choose a hospital that has a reputation for treating all types of cancer. A well-known cancer hospital will employ the best and most experienced doctors. Some of them are listed below:
HCG Manavata, Nashik
Fortis BG Road, Bangalore
Fortis Hospital, Vadapalani
Kokilaben Ambani Hospital
Manipal Hospital, Whitefield
Fortis C-DOC, Chirag Enclave
Fortis La Femme, Greater Kailash
Manipal Hospital, Old Airport Road
BKL Superspeciality Hospital, New Delhi
Fortis Escorts Heart Institute, Okhla Road