If you are looking for affordable kidney cancer treatment, India should be among your top choices. The cost of kidney cancer care in India is less than expected in other developing countries of the industrialized world. The estimated cost of treatment for kidney cancer in India is approximately $3,000-$4,000 (2,23,402 – 2,97,870 INR), and depends on factors such as the chosen hospital, physician experience, housing, post-operative care etc.
What is Kidney Cancer?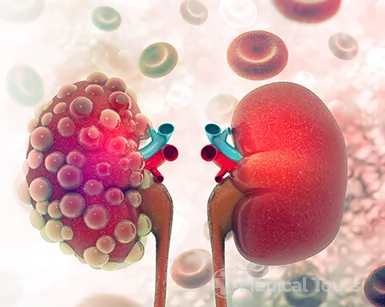 Patients experience minimal complications following knee replacement surgery. Even when complications occur, they are not prolonged. However, when complications occur, the patient requires an extended recovery period. The maximum time taken for patients to get back to their daily routine is between 12 weeks and 6 months. Prosthetics placed in the knee remain in the working condition upto 20 years after surgery. Seniors undergoing knee replacement generally experience a complete recovery after a post-surgical period of care.
Kidney cancer, also known as renal cancer, is the most common type of kidney tumor that begins in the kidney cells. This disease can develop in several locations within the kidney, with the most common site being the tubes that carry urine from each kidney to the bladder (ureters).
Other sites include other types of tumors that begin in different types of cells, such as renal cell carcinoma, which is a common type and accounts for about 90% of all kidney tumors while, Wilms tumors (only in children), and other rare forms of kidney cancers accounts for only 10%. It is seen as 9th common cancer among men and 14th common among women.
Types Of Kidney Cancer
Kidney cancer is more common in adults and accounts for approximately 85% of the cases. The disease develops in the proximal renal tubules which constitute the filtration system of the kidney. Kidney Cancer can be categorized into:
Signs And Symptoms Of Kidney Cancer
The signs of kidney cancer are not always identified as it does not usually produce any particularly noticeable symptoms at an early stage. But there are some symptoms that may help identify the problem in kidneys. The following are the most common indications that can indicate kidney tumor:
Fatigue
Anemia
Weight loss
Blood in urine
Decreased appetite
Back pain on one side
A lump on the side or bottom of the back
Permanent Fever which is not due to infection
Causes Of Kidney Cancer
Although the exact cause of kidney cancer is not known, a few risk factors have been identified, and these risk factors are found to increase one's chances of developing kidney cancer. Although most people who have a risk factor will never develop kidney cancer, knowing what may increase your risk can lead to early detection of the disease and better treatment options. Some of the risk factors includes:
Age
Smoking
Obesity
Von Hippel-Lindau Disease: Individuals with this genetic disorder are at a higher risk of getting kidney cancer.
Exposure to Harmful Chemicals: Exposure to hazardous chemicals, such as cadmium and certain herbicides increases one's risk of getting kidney cancer.
Infection: Hepatitis C infection.
Underlying Kidney Diseases
Family History of Kidney Cancer
Hypertension
Regular Usage of NSAIDs: Consumption of ibuprofen and naproxen for a long time.
Previous Treatments for Cervical Cancer or Testicular Cancer: Those who have received treatment for cervical cancer and testicular cancer are more prone to develop kidney cancer.
Diagnosis Procedure For Kidney Cancer
For the oncologist, it is necessary to confirm the existence or absence of kidney cancer based on the collection of symptoms that you experience. To confirm the existence of cancer cells in your kidneys, he or she may recommend a combination of the following diagnostic tests:
Stages Of Kidney Cancer
To know the stage kidney cancer, the doctor needs to know the size of her tumor and whether it has spread. The stage of the cancer is based on how advanced it is and involves imaging tests to determine how large the tumor is, whether it has spread to other parts of the body, and so on.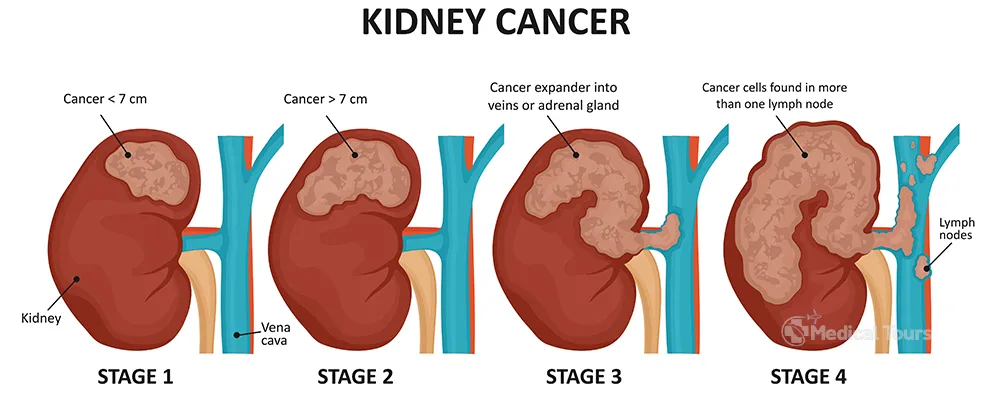 Treatment Options For Kidney Cancer
Treatments for kidney cancer may vary depending on the type of cancer, how far it has spread, and the patient's overall health. Each one of these has its own advantages and disadvantages in terms of treatment success rates and side effects. Here are some treatments related to kidney cancer:
Cities And Hospitals Offering Best Treatment In India
The best city and hospital for Kidney cancer treatment will not just be chosen on the basis of cost but also factors like number of success cases, medically advanced hospitals, and good treatment facilities. Some of the listed hospitals provides best treatment for kidney cancer in India:
Paras Hospital
Medanta The Medicity
Max Healthcare, Delhi
Global Hospital Chennai
Artemis Hospital Delhi
Fortis Hospital, Noida
Fortis Hospital, Mumbai
Global Hospital Mumbai
Jaslok Hospital, Mumbai
Apollo Cancer Institute Delhi
Tata Memorial Hospital, Mumbai
Apollo Cancer Institute, Chennai
Apollo Gleneagles Hospital, Kolkata
Indraprastha Apollo Hospital, New Delhi
Manipal Hospital Bengaluru (Bangalore)
Global Hospital Bengaluru (Bangalore)
Narayana Multispecialty Hospital, Bengaluru
Nanavati Super Specialty Hospital, Mumbai
BLK-MAX Super Speciality Hospital, New Delhi
Fortis Memorial Research Institute (Fmri) Gurgaon
Pushpawati Singhania Research Institute, New Delhi
Kokilaben Dhirubhai Ambani Hospital & Medical Research Institute Mumbai