What are types of knee replacement surgeries?
After quite examination of the patient's knee condition, the doctors decide the type of knee replacement surgery procedure.
Partial Knee Replacement Surgery
Revision Knee Replacement Surgery
Robotic knee replacement Surgery
Minimally Invasive Knee Replacement
Unilateral Total Knee Replacement Surgery
Bilateral Total Knee Replacement Surgery
Conditions Required for Knee Replacement Surgery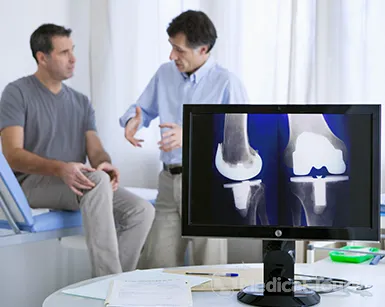 The first cause is for knee replacement is prolonged pain and illness. The most common cause of disability of the knee joint is the aging process. People often experience continuous stiffness and may not be able to perform daily activities. Prior to knee replacement surgery, a doctor may recommend non-surgical methods such as physiotherapy, walking, weight loss, and the use of anti-inflammatory and analgesic medication.
There are Several conditions require knee replacement surgery including:
Severe arthritis
Some form of trauma
Rheumatoid arthritis
Deformity of the legs
Continuing pain in knee
Chronic deformity of the knee
Pain and swelling in the knee
In most condition, patients who have been advised knee replacement, their pharmacological remedies would have failed requiring surgical interventions. Physicians consider several criteria before initiating a knee replacement procedure. Rather than the gender and age of the patient, a doctor assesses the disability and severity of the debilitating condition. The doctor may assess the patient for prominent signs such as persistent swelling and inflammation of the knee.
Diagnostic Tests Required for Knee Replacement Surgery
X-Ray
MRI scan
Blood Test
A physical examination
Review medical history
The physician may also consider specific conditions such as blood pressure, thyroid, hemophilia, pregnancy complications, and diabetes. The doctor may also review current medications and existing allergies and minimize the risk of adverse outcomes.
Typical Knee Replacement Surgery Procedure?
Depending on the condition that is diagnosed, a patient may be advised either total knee replacement or partial knee replacement. A total knee replacement procedure is carried out when the entire knee joint is damaged. Partial knee replacement is also known as unicondylar or unicompartmental knee replacement and is performed when only a part of the knee is to be replaced.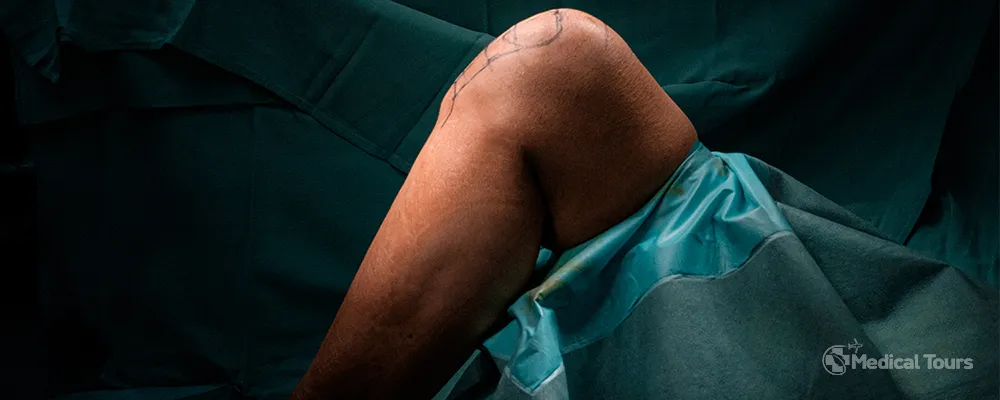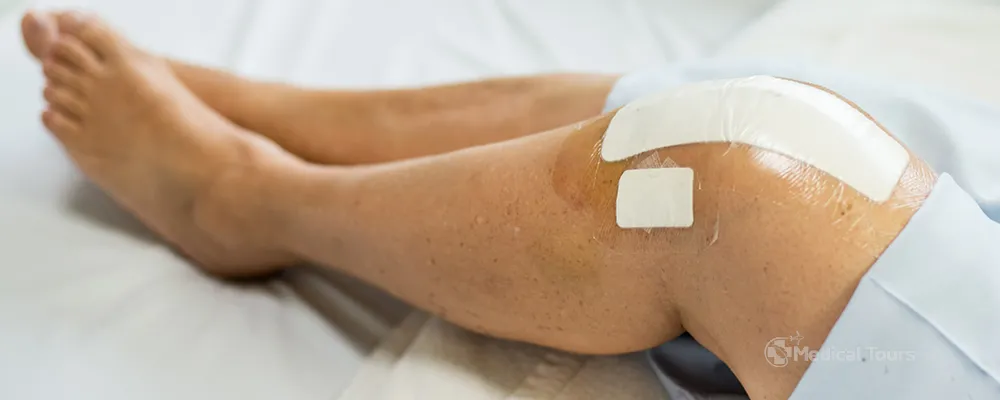 The surgical procedure is associated with several risks:
Stroke
Infection
Heart attack
Nerve damage
Knee replacement surgery also puts a person at the risk of developing blood clots in the lungs and the leg vein. Patients must consider warning signs of infection such as fever higher than 100 degrees centigrade, any form of discharge or drainage from the site of operation, increase in tenderness, redness, pain, swelling, and chills with shaking.
When an infection occurs at the surgical site, the prosthetic in the knee is removed and antibiotics administered to the patient. Following successful treatment of the infection, the surgeon performs another surgery to install a new prosthetic.
Patients have the highest chances of successful outcomes when they do not require additional surgical procedures. Another major risk that patients may face is the failure of the prosthetic device. Wear and tear that occurs in the prosthetic because of stress encountered in daily activities may cause the artificial joint to stop functioning sooner than expected. Excessive weight and high-impact activities increase the risk of failure of the prosthetic.
Post-Surgical Care of Knee Replacement Surgery
Following a knee replacement procedure, the care team observes the patient for some hours in the recovery room. Depending on the progress of the patient, the doctor may use the continuous passive motion (CPM) machine for about four days, and this may continue for about three weeks. A patient generally recovers from surgery within 12 months, but the recovery time varies on a case-by-case basis.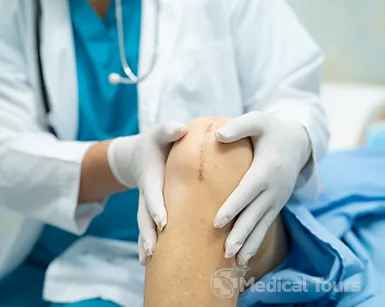 Patients experience minimal complications following knee replacement surgery. Even when complications occur, they are not prolonged. However, when complications occur, the patient requires an extended recovery period. The maximum time taken for patients to get back to their daily routine is between 12 weeks and 6 months. Prosthetics placed in the knee remain in the working condition upto 20 years after surgery. Seniors undergoing knee replacement generally experience a complete recovery after a post-surgical period of care.
To sum it all up, knee replacement is a common procedure that many people may require because of deterioration and disability of joints from the aging process. Knee replacement costs in India are lower than most other countries and patients are advised to use precise diagnostic tests and pre and post-surgical care for maximum chances of positive outcomes.