India is well-known for providing high-quality care to cancer patients from around the world at a low cost. Some of India's best hospitals also provide free assistance with visas, lodging, transportation, and other arrangements. The Esophageal Cancer Treatment cost in India is approx. range from USD 4,200 to 4,500 (INR 3,25,691 to INR 3,48,954).
Factors Influencing the Cost of Esophageal Cancer Surgery in India
India produces high-quality anti-cancer drugs at a low cost. Cancer medicines are also exported from India to other countries and some of the best hospitals in the world. The overall cost of anti-cancer medicines is low due to in-house manufacturing, resulting in lower cancer treatment costs in India. There may be a comparable difference in the cost of esophageal cancer surgery in India at different locations due to hospital infrastructure, doctor's fees, therapies and techniques, the cost of medications and surgery charges, and hospital services.
The final cost of esophageal cancer surgery in India is determined by several factors, including the treatment method used, the type of anesthesia or sedation used, and other treatments administered concurrently.
Severity
Location
Treatment method
Applied technology
Pre and post-care services are provided
What is Esophageal Cancer?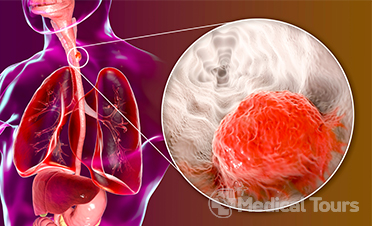 Esophageal /Oesophageal cancer is distinguished by abnormal, uncontrolled cellular growth in esophageal tissues and cells. This cancer can begin anywhere along the esophagus and spread to nearby tissues. It can also spread to distant bodily tissues or organs via the bloodstream, lymphatic system, or other means. Esophageal cancer typically begins in the inner layer of the esophagus wall and spreads to the other layers.
The esophageal wall is made up of several layers, including mucosa, submucosa, muscularis propria, and adventitia. The innermost layer of the esophagus is the mucosa, and the outermost layer is the adventitia.
Symptoms of Esophageal Cancer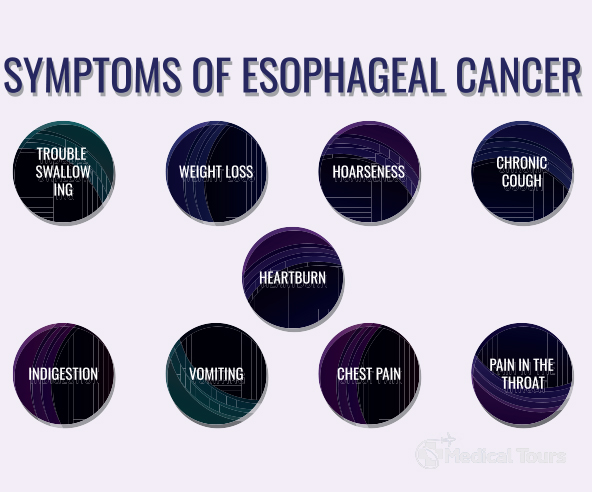 The most common symptom of esophageal cancer is difficulty swallowing. Patients can feel food lodged in their throats and may experience choking. This symptom is mild at first, but it worsens as the disease progresses, and the patient may have difficulty swallowing liquids as well. Other common esophageal cancer symptoms include:
Cough
Fatigue
Vomiting
Backache
Change of voice
Unintentional weight loss
Causes/ Risk Factors of Esophageal Cancer
Although the exact cause of esophageal cancer is unknown, certain risk factors increase the likelihood of developing the disease. The occurrence of mutations or damage to the DNA (Deoxyribonucleic acid; genes) in cells, as with most cancer types, is said to be one of the causes, though the exact reason why normal cells become cancerous is still unknown. Only a small percentage of esophageal cancers are caused by inherited gene mutations. Aside from such inherited mutations, acquired gene mutations are the primary cause of the condition. Such mutations occur during a person's lifetime and are not passed down to their offspring.
Aside from that, genetic and environmental factors play an important role in the development of esophageal cancer in some people. This includes excessive use of tobacco or alcohol, which causes esophageal squamous cell cancer. When both are consumed together, the risk of developing this type of cancer rises.
Smoking also raises the risk of adenocarcinoma
It's thought that chronic irritation of the esophagus may contribute to the DNA changes that cause esophageal cancer. Factors that cause irritation in the cells of the esophagus and increase the risk of esophageal cancer include:
GERD
Obesity
Smoking
Bile reflux
Alcohol consumption
Consuming very hot liquids frequently and fewer fruits and vegetables
Diagnosis of Esophageal Cancer
For the detection and diagnosis of esophageal cancer, several testing methods are available: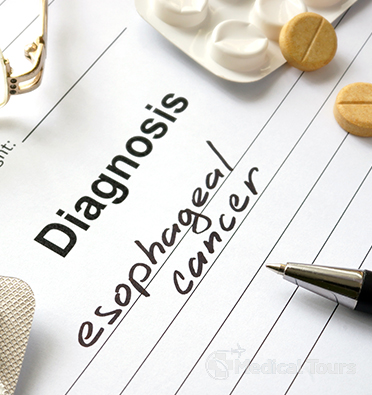 Barium Swallow Test: During this test, the patient is made to swallow a barium-containing liquid and then undergo X-rays. The barium films the esophagus's interior, allowing the specialist to see any changes in the tissues during an X-ray scan.
Esophagoscopy (Endoscopy): During endoscopy, a flexible tube with a video lens (video endoscope) is passed down the patient's throat and into the esophagus. This procedure aids in the examination of the esophagus and the detection of cancer or areas of inflammation.
Imaging Tests: Imaging tests, such as PET CT, ultrasound, and others, are advised to determine the extent of the disease. These tests aid in disease staging, treatment planning, therapy monitoring, and restaging.
Biopsy: A biopsy sample may be collected during the endoscopy. The collected tissue sample is then sent to a laboratory to be examined for the presence of cancer cells.
Treatment Options for Esophageal Cancer
There are numerous treatment options for esophageal cancers, regardless of stage. HCG has the best esophageal cancer specialists in India, who assess patient information and devise treatment plans based on a variety of critical factors, including disease stage, the exact location of the tumor, tumor grade, patient age, and overall condition, and preferences. Surgery, radiation therapy, chemotherapy, immunotherapy, targeted therapy, laser surgery, and other GI procedures are the primary treatment options for esophageal cancers.
FAQs
Despite being one of the most aggressive cancers, esophageal cancers can often be treated and managed. Early-stage esophageal cancers can be treated successfully, with improved clinical outcomes and survival rates. No symptom should be ignored, and any symptom that persists for more than two weeks should be brought to the doctor's attention as soon as possible – this aids in disease detection and treatment.
Barrett's esophagus is a condition in which the cells lining the esophagus begin to change.
This condition is more common in people who have acid reflux (GERD); however, people who do not have GERD can develop Barrett's esophagus.
This condition has been linked to an increased risk of developing esophageal adenocarcinoma.
Although only a small percentage of people with Barrett's esophagus develop esophageal cancer, they must keep an eye on the condition in case they are diagnosed.
The cancer stage is an important factor that plays a key role in deciding the best alternative for esophageal cancer treatment.
Staging for cancer of the esophagus is performed based on:
How far cancer has spread from the esophageal wall
If it has spread to close-by lymph nodes
If it has spread to other sections of the body
For staging, the TNM classification scheme is followed, in which T stands for tumor invasion depth, N for metastasis (spread) to the regional lymph node, and M for distant organ metastasis. Roman numerals I, II, III, and IV are provided for the resulting classification or phases. Phase I is the least advanced phase in this, while phase IV is the most advanced one.