What Is Orthopedic Surgery?
Orthopedic surgery is the branch of surgery concerned with conditions involving the musculoskeletal system, including the bones and joints, ligaments and tendons, muscles and nerves. Orthopedic surgeons use both surgical and nonsurgical means to treat musculoskeletal trauma, spine diseases, sports injuries, degenerative diseases, infections, tumors, congenital disorders and deformities.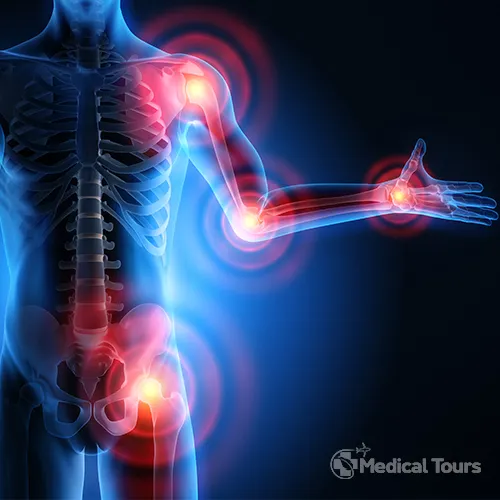 Orthopedic surgery is performed by a medical specialist, such as an orthopedist or orthopedic surgeon, trained to deal with problems that develop in the bones, joints, and ligaments of the human body. They perform surgical procedures on both adults and children, working together with physical therapists and other medical personnel to promote overall health and wellness. However, some of the diseases treated by the orthopedic surgeon include:
Osteoporosis.
Osteoarthritis.
Growth abnormalities.
Rheumatoid arthritis.
Back pain, ruptured disks, sciatica and scoliosis.
Bone tumors, muscular dystrophy and cerebral palsy.
Fractures and dislocations.
Sports or work-related injuries.
Torn ligaments, sprains and strains.
Abnormalities of the fingers and toes.
Club foot, bunions, bowlegs, knock knees and unequal leg length.
Surgeries Performed By Orthopedic Surgeons
Orthopedic Surgeons offer you a wide range of treatments for all types of orthopedic problems. Your orthopedist may perform one or more surgeries on you during your treatment, such as spinal fusion. They are also skilled in treating broken bones and dislocations. Some conditions they treat include arthritis, broken bones, fractures and dislocations, falls and sports injuries.
Some common surgeries include:
Arthroscopy: It is a procedure in which special cameras and equipment are used to visualize, diagnose and treat problems inside a joint.
Knee Replacement: Knee replacement is a commonly performed orthopedic surgery which relieves pain and stimulates the healing process in patients suffering from knee arthritis. This surgical procedure can provide patients with a high level of function, comfort and mobility.
Fusion: Considered a "welding" process by which bones are fused together with bone grafts and internal devices, such as metal rods to heal into a single solid bone.
Internal Fixation: A method in which the broken pieces of bone are held in proper position with metal plates, pins or screws while the bone is healing.
Joint replacement (partial, total and revision): When an arthritic or damaged joint is removed and replaced with an artificial joint called a prosthesis.
Osteotomy:It includes the mending of soft tissue, such as torn tendons or ligaments.
Other Main Surgeries For Orthopedics Includes
Joint Replacement: Joint replacement surgery is a kind of orthopedic surgery known for restoring freedom of movement and eliminate the pain because of degenerated and diseased joints. Hip and knee replacements are the most common ones. Due to technological advancements, now-a-days cementless joints are being used for customized fitting to increase longevity. The main thing about this surgery is there is no fixed time period in which it lasts, it might not last long and may need a second chance too.
Various kind of joint replacement surgeries include:
Wrist replacement
Total hip replacement
Total knee replacement
Total elbow replacement
Ankle joint replacement
Partial Knee Replacement
Total shoulder replacement
Hand joint (small) replacement surgery
Minimally Invasive Knee Replacement Surgery [MIKRS]
Arthroscopic (Keyhole) Surgery: Arthroscopic surgeries are known as keyhole surgeries as the incision for the operation is the size of a small hole in the skin. It deals with operations of joints and is more commonly done in a number of body parts like shoulder, knee, wrist, ankle and so on. The most performed arthroscopic surgery is of the knee joints. For a normal arthroscopic surgery, one has to stay in the hospital only for a day or two but physical exercise after the surgery is extremely important.
The surgery for the problems in knee, shoulder, elbow, and ankle deals with the:
Fusion of joints
Correction of deformities
Trauma and Fracture surgery
Infected non-union of long bones
Infected non-union of long bones
Image intensifier, confirms perfect fracture fixations
High quality Swiss 'AO' systems help stabilize fractures
Ilizarov and External Fixation Device Management of open fractures
Spinal Surgery: The comprehensive spinal surgery program is a comprehensive interdisciplinary service that requires orthopedic surgeons, neurosurgeons, neurologists and physical and rehabilitation medicine. These doctors perform a variety of surgical procedures for all parts of the spine and back. Technological advancements in the field of medicine, along with traditional disc surgeries on the back and neck, microscopic surgeries on the spine, endoscopic spine surgery and minimal surgeries are being done. It includes:
Endoscopic spine surgery
Surgery for spinal tuberculosis
Surgery for correction of spinal deformities
Disc surgery Microsurgery for disc Fixation systems for fractures
Arthritis Care: Arthritis is a common health problem with many forms of joint pain, stiffness and in some cases loss of movement. Rheumatism is another term used by doctors to refer to joint pains. There are various other terms used by doctors to refer to arthritis such as Osteoarthritis Rheumatoid arthritis, Infective arthritis, and Traumatic arthritis.
Pediatric Orthopedics: It deals in the treatment of every musculoskeletal problem in children, which is overall pediatric trauma, metabolic diseases, congenital malformations and genetic abnormalities such as club foot, congenital dislocations and pseudarthrosis. The corrections include congenital limb and spinal deformity corrections, Bone and joint infection management, and Juvenile arthritis management.
Ankle Arthrodesis: Ankle arthrodesis, also known as ankle fusion, removes ankle bones and then joins them together. The treatment not only alleviates the ankle pain but also eliminates the motion problem of the ankle joint. Thus, the best way to treat ankle arthritis is ankle arthrodesis.
Anterior Cruciate Ligament (ACL) Reconstruction: It is a surgical procedure in which a torn or stretched ligament is replaced with a matching graft. The treatment is suggested for restoring the functioning of the knee after surgery. The method is carried out on the anterior cruciate ligament, which is one of the two major ligaments in the knee joint. It connects the femur (thighbone) to the tibia (shinbone), helping to keep your knee stable and intact.
Carpal Tunnel Release: It is suggested to patients experiencing unbearable pain in their wrists and hands. This procedure allows for transverse carpal ligament cutting that in return alleviates pain and numbness in the area. The affected area takes time to heal after the surgery since it remains painful and numb for a few days.
Decompression Posterior and Fusion Spine Surgery (Level I): It is performed to eliminate a part of the bone over the disc material or nerve root. This makes more space at the nerve root and thus reduces nerve impingement caused due to narrowing of spaces between vertebrae, damaged disks, and bones.
Decompression Posterior and Fusion Spine Surgery (Level II): The surgery of decompression posterior and fusion is carried out to fuse lower back at two different levels. The surgery aims to decorticate transverse processes and facet joints as well. In this method, bone grafts are placed on the sides of the vertebrate.
Disc Replacement (Cervical/Lumber) One Level: It is a type of weight-bearing implant. It is used as an alternative to fusion. The method guarantees controlled motion at level one and has many benefits. Longer implant stability through bone-in-growth and ease in movement of lumbar bones and muscles are two benefits.
Disc Replacement (Cervical/Lumber) Two Level: Disc Replacement (Cervical/Lumbar) Two-Level is designed for patients suffering from symptomatic degenerative disc disease. It aids in the correction of two adjacently injured cervical discs by replacing them with two artificial disc devices. The main objective of this surgery is to alleviate your neck pain, arm pain, and numbness or weakness in your upper leg.
Knee Arthroscopy: Knee arthroscopy is the most preferred method when it comes to treating knee joint issues. If you are facing an issue concerning your knee, and have been advised of surgery, then know that this kind of treatment does not involve opening your skin, rather a small incision is made on the knee which is followed by inserting an endoscope with an attached camera into the knee. At the end of it all, flexible knee movement post-surgery is ensured by restoring the normal joint fluid.
Meniscetomy: Knee meniscus tear is a medical condition, which makes the knee joint painful by getting torn in the middle of the knee. This tear can occur during play or due to injury; thus, making it impossible for the patients to carry out their daily activities without experiencing pain. To cure this issue or alleviate this issue, surgical treatment is carried out. Such surgery is performed so that one gets relief from pain and normalcy in his/her daily life can be experienced again.
Transforaminal Lumber Interbody Fusion: Also known as TLIF, it is one to fuse the posterior and anterior columns of the spine through spine approach. Patients must undergo surgery so as to treat their pain effectively. The minimally invasive surgical technique is used in TLIF to fuse the bones and helps the patient to recover fast.
Apart from these the advance orthopedic surgery include:
Torn Labrum Repair Surgery: The torn labrum surgery is one of the most complex and hardest procedures to perform. The procedure requires experienced surgeons to perform such a surgery. The labrum is a type of cartilage found in the shoulder joint. The shoulder is a ball and socket joint where the arm meets the body. Tears of the labrum near the biceps tendon attachment (SLAP lesions) may be just trimmed or may need to be reattached to the top of the socket. The best way to do this is with arthroscopic surgery since this area is difficult to reach with an open operation through a large incision. Using the arthroscope and small incisions for other instruments, the labrum can be re-attached to the rim of the socket using either sutures or tacks.
Podiatric Surgery: The foot and ankle can be very delicate areas of your body. Our surgeons are well versed in the art of reconstructive surgery, both minimally invasive and full reconstructions. If you suffer from joint and ligament problems, or congenital deformities, our surgeons can ensure a high level of functionality in your feet as well as lower leg regions.
Cost Of Orthopedic Surgery In India
As India is world's most preferable destination for patients who are looking for low cost Orthopedic surgery, the cost of the Orthopedic Surgery in India is typically a fraction of the cost for the same procedure and care in the US and other developed countries. Comparing Orthopedic Surgery cost in India with the same treatment procedure in other countries, the price for surgery would be 30-50% lower.
Type of orthopaedic surgery and cost in India:
Arthroplasty: $5,000 (INR 387784)
Laminectomy: $4,600 (INR 356761)
Hip Replacement Surgery: $6,000 (INR 465341)
Knee Replacement Surgery: $4,500 (INR 349006)
Shoulder Joint Replacement Surgery: $6,000 (INR 465341)